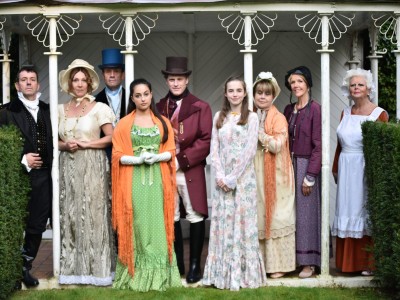 Join us
Joining the Henley Players is easy. We look forward to welcoming new members and we are always looking for the next star set to shine onstage. To find out more, take a look around our website or contact our membership secretary on 01491 636253. We look forward to hearing from you.
Who are the Henley Players?
The Henley Players is a fun and stimulating amateur theatre group that has been going for over 70 years. We welcome new members of all ages and from all walks of life. Whether you have theatre experience, or just want to try something new, we have a role for you. Visit our About us section for more information or get in touch to join us.
---
Latest News
Autumn Production – A Bunch of Amateurs
The Henley Players are delighted to announce our Autumn Production for 2023 which is A Bunch of Amateurs by Ian Hislop and Nick Newman. This comedy will be directed for us by Julia Ashton and will be performed at The Kenton Theatre from 18th-21st October 2023.
Synopsis:
Ageing Hollywood action hero Jefferson Steele is looking forward to reviving his career by acting with the likes of Kenneth Branagh and Judi Dench in a production of King Lear at the birthplace of Shakespeare, Stratford-upon-Avon. What he hasn't counted on is that the production is actually being staged in Stratford St John, a sleepy village in Suffolk, and his fellow cast members are an enthusiastic bunch of amateur thespians desperately trying to save their theatre. This laugh-out-loud comedy, written by Ian Hislop (Private Eye, Have I Got News For You) and Nick Newman (Spitting Image, Murder Most Horrid) is full of hilarious characters and snappy dialogue as acting worlds collide head-on.
Cast:
Jefferson: Peter O'Sullivan
Dorothy: Pam Pitts
Mary: Rowena McMenamin
Nigel: Steve Mappley
Jessica: Christie Southwick
Lauren: Michaela Evans
Dennis: Mike Mungarvan
---