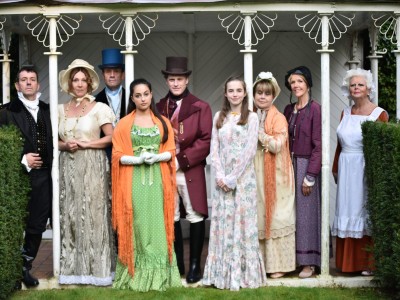 Join us
Joining the Henley Players is easy. We look forward to welcoming new members and we are always looking for the next star set to shine onstage.
To find out more, take a look around our website or contact our membership secretary on 01491 636253. We look forward to hearing from you.
Who are the Henley Players?
The Henley Players is a fun and stimulating amateur theatre group that has been going for over 70 years. We welcome new members of all ages and from all walks of life. Whether you have theatre experience, or just want to try something new, we have a role for you.
Visit our About us section for more information or get in touch to join us.
---
Latest News
The Real Thing by Tom Stoppard
The Henley Players are delighted to announce our Spring production, The Real Thing by Tom Stoppard which will be performed at the Kenton Theatre from 16th to 19th March.
Love is the focus of The Real Thing, a brilliantly constructed play within a play by Tom Stoppard at his clever, witty and poignant best. An early 80s West End hit starring Felicity Kendal, it was also a Tony Award-winning Broadway triumph, with Glenn Close and Jeremy Irons. Described by theatre critic Michael Billington as "that rare thing….an intelligent play about love," its appeal endures almost forty years on as we watch four entertaining, emotional characters wrestle with the highs and lows of love and passion in their day-to-day lives. Playwright Henry is married to actor Charlotte and actors Max and Annie to each other; the drama unfolds as relationships unravel. But how do we know which relationship is the 'real thing'? The main themes of love and adultery are underwritten with typical Stoppard questions about the influence of art on life. This pertinent, funny and touching play, which crackles with sharp dialogue and shines an unforgiving spotlight on marriage and relationships, is not to be missed. As Henry tells us: "It's no trick loving somebody at their best. Love is loving them at their worst".
Max – Ioan Havard
Charlotte – Donna Thomson
Henry – Tim Harling
Annie – Grainne Harling
Debbie – Sigourney Lee
Billy – Stephen Taylor-Brown
Brodie – TBC
---