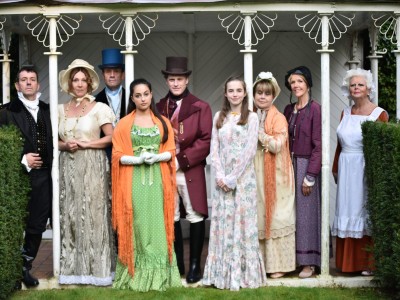 Join us
Joining the Henley Players is easy. We look forward to welcoming new members and we are always looking for the next star set to shine onstage. To find out more, take a look around our website or contact our membership secretary on 01491 636253. We look forward to hearing from you.
Who are the Henley Players?
The Henley Players is a fun and stimulating amateur theatre group that has been going for over 70 years. We welcome new members of all ages and from all walks of life. Whether you have theatre experience, or just want to try something new, we have a role for you.
Visit our About us section for more information or get in touch to join us.
---
Latest News
Saturday Sunday Monday Fully Cast
Happy to announce that our next production, Saturday Sunday Monday,  is now fully cast and in rehearsal. It is a very funny play and part of an exciting documentary project. A link to the flyer is below for circulation.
The cast……..
Donna Rosa….Julia Ashton
Virginia …….Liz McEwen
Peppino… Michael Mungarvan
Rocco….Archie Newman
Federico……Len Pannett
Antonio…..Tim Green
Giulianella….Lili Tuttle
Meme……..Rachel Head
Attilio…….Sam Wimbush
Raffaele…..Liz Keens
Luigi Ianello……Steve Taylor-Brown
Elenea Ianello…..Pam Pitts
Michele….Tim Balmford
Roberto …..Arnaldo Teodorani-Fabbri
Maria Carolina…..Jemima Pettifer
Catiello, the tailor……Barry Rosier
Dr. Cefercola…..Barry Rosier
Director…..Teri Zambigli
---